Continuing our current discussion, we have been looking at various types of insurance over the past couple of months. Overall, insurance is a risk management process. Risk is managed by buying the insurance policy to protect against a financial loss event. We will cover the basics of life, health, disability, and home and auto insurance. This month we will focus on how disability insurance works, including the different policies and associated benefits.
The Definition of Disability
Before we begin diving into the different types of policies and how disability insurance works, it is essential to understand what it means to be disabled. Being disabled in the insurance world means an illness or injury prevents you from receiving your ordinary income. This type of insurance protects individuals by providing an income stream if they can no longer work.
However, there is a difference between working your typical job versus being able to perform any job. It is helpful to consider this specific detail when purchasing disability insurance. "Own-Occupation" will provide benefits if you cannot perform your typical work duties. "Any Occupation" will pay benefits if you cannot perform any job.  
For example, brain surgeon heavily relies on their hands in their typical work duties. Under the "Own-Occupation" policy, the doctor will be paid disability benefits if they lost movement in their hands. However, under "Any-Occupation," it could be reasoned that the surgeon could work as a mentor to new surgeons instead of continuing to perform surgeries.
Under the "Any-Occupation," the individual would only benefit from the decreased income experienced from transitioning from a surgeon to a mentor.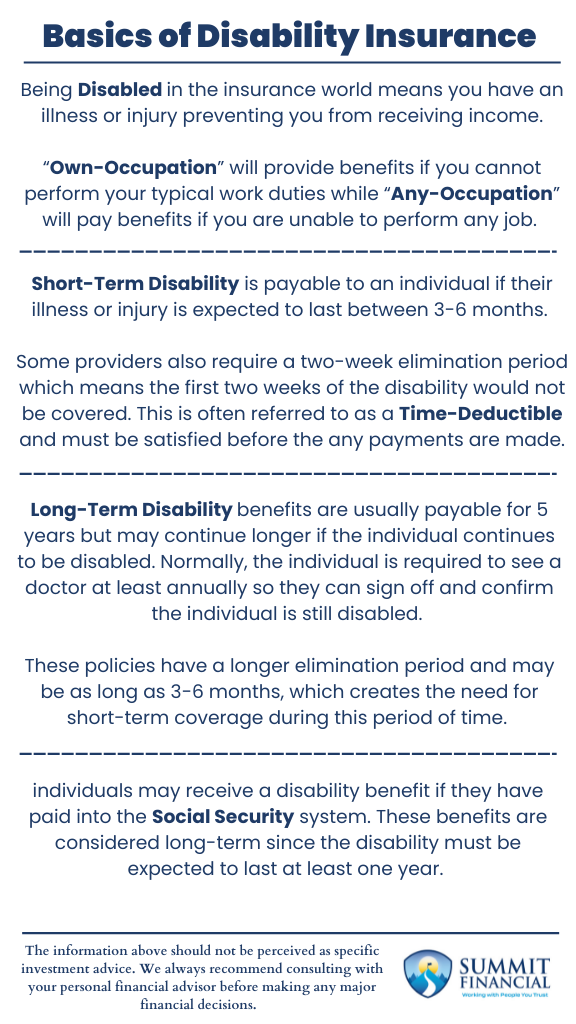 How Does Short-Term Disability Insurance Work?
Short-term disability is payable to an individual if their illness or injury lasts 3-6 months. The exact duration of the policy may vary from case to case. However, the concept remains the same. Short-term disability insurance only provides a temporary benefit.
Because the benefits timeframes are limited, these policies typically pay out more significant amounts. Benefits are payable once a doctor confirms that you are technically disabled and provides confirmation for the disability insurance provider. Some providers also require a two-week elimination period.
This means the policy would not cover the first two weeks of the disability. Often this is referred to as time-deductible and must be satisfied before payment. 
How Does Long-Term Disability Insurance Work?
We believe Long-term disability is much more important since these disabilities can last forever. This is a crucial reason we strongly recommend an emergency fund. This emergency fund may support short-term disabilities. For long-term disability, though, this risk can last a lifetime and may occur before the individual can save enough funds to provide income forever.
Long-term disability benefits are usually payable for five years but may continue longer if the individual continues to be disabled. Typically, the individual must see a doctor annually and confirm the individual is still disabled.
These policies usually pay out less than short-term coverage, but the benefits may last as long as the individual is disabled. Furthermore, these policies also have a more extended elimination period and could be as long as 3-6 months. (This explains the potential need for short-term coverage until the long-term benefits begin.)
How Does Social Security Disability Work?
As part of the Social Security program, individuals may receive a disability benefit if paid into the Social Security system. These benefits are considered long-term since the disability must be expected to last at least one year.
Social Security benefits are limited by the amount paid into social security. Since this benefit is provided at no cost, this should be accounted for when purchasing additional coverage. Getting a 100% income replacement policy is not common, but you will most likely receive the social security benefits. Most disability policies target 60-70% income replacement but may be increased for additional premiums. Social Security Disability can be used to fill the remaining income gap.
Have More Questions?
It is crucial to understand how disability insurance works when selecting a policy. We recommend all of our employed clients check with their employer to see what disability benefits they offer. Many people think they already have disability coverage through their employer, but it's essential to differentiate between workers' compensation coverage and disability insurance.
We provide this coverage, so please let us know if you would like a quote on a personal policy.
Please feel free to forward this commentary to a friend, family member, or co-worker.
If you have had any changes to your income, job, family, health insurance, risk tolerance, or overall financial situation, please get in touch with us to discuss it. We hope you learned something today. If you have any feedback or suggestions, we would love to hear them.
If you found our article helpful, consider reading our other recent posts on Charitable Gifting, Record Inflation, and Fiduciary vs. Financial Advisor.
Best Regards,
Zachary A. Bachner, CFP®
contributions by Robert L. Wink, Kenneth R. Wink, and James D. Wink.