The future financial status of the Social Security program is a popular topic of debate. Each year, the Trustees of the Social Security trust report on the programs' current and projected financial status. The annual report has some questioning if the program will last.
Social Security Things to Know
Each year, the Social Security Trustees report is released, and it provides insight into how long the money will last.

Unfortunately,

Covid negatively affected the numbers.

Tough decisions need to be made between now and 2033.
When the fund was started in 1935, the average person lived until age 62, and retiree benefits from Social Security did not begin until age 65. As a result, the majority of people never received a single check. In 2021, the average person signs up for Social Security at the youngest age possible, age 62, but life expectancy has increased to age 79, so the average person now uses it for 17 years. (Source: https://bit.ly/3zi8KWL)
Covid's Impact on Social Security
As a result of the improved life expectancy, the Social Security fund has been slowly depleting, and according to the latest report, it will run out of money in 2033. Covid has devastated the economy, which reduced the taxes that were received. Over 400,000 people died of Covid receiving Social Security benefits, but the economic shortfalls outweighed that. Before Covid, Social Security was expected to last until 2034, but some feared it might run out of money as soon as 2029 because of Covid, so it's turned out better than the worst-case scenarios. (Source: https://www.ssa.gov/oact/trsum/).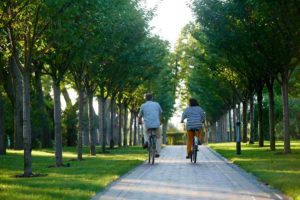 Fixing Social Security
To fix the problem; there are three primary solutions:
First, reduce all benefits by 21% across the board immediately. 

Increase FICA paycheck withholding taxes from 12.4% up to 15.76% today (or up to 16.6% in 2034).

Grandfather all current recipients, but reduce benefits started after 2021 by 25% 
Additional options may help when combined with the above options, including pushing out Full Retirement Age for younger workers and reducing the annual "raises" retirees receive (COLA). 
Will the politicians proactively plan to save Social Security, or will they wait until the last minute when a crisis will further hurt benefits? Only time will tell. 
Have More Questions? 
If you've had any changes to your income, job status, marital status, 401K options, address, or any other financial changes, don't hesitate to contact the team at Summit Financial today.
In addition, please feel free to forward this commentary to a friend, family member, or co-worker. Likewise, if you have had any changes to your income, job, family, health insurance, risk tolerance, or overall financial situation, please give us a call to discuss it.
If you found our article on today's market news helpful, consider reading our recent posts on Calculating Net Worth, Bidens Tax Plan, and Meme Stocks. 
Best Regards,
Kenneth R. Wink
with contributions by Robert L. Wink, James D. Wink, and Zachary A. Bachner