Do you believe in Christmas miracles? The stock market seems to believe based on the seasonal trend at the turn of the new year. This seasonal event is referred to as the Santa Claus Rally. This term refers to the positive stock market performance observed after the holiday season and during the turn of the new year. The name of this rally is obviously associated with Christmas, as this holiday typically marks the beginning of the rally.
What Is The Santa Claus Rally?
The term

Santa Claus Rally

refers to the historical trend of the stock market to perform positively over the last handful of trading days of the calendar year.

 

In addition to seasonal trends, we do believe there is a fundamental explanation behind this common occurrence.

Please be aware that this blog is not specific investment advice, and the market may increase or may decrease over this period.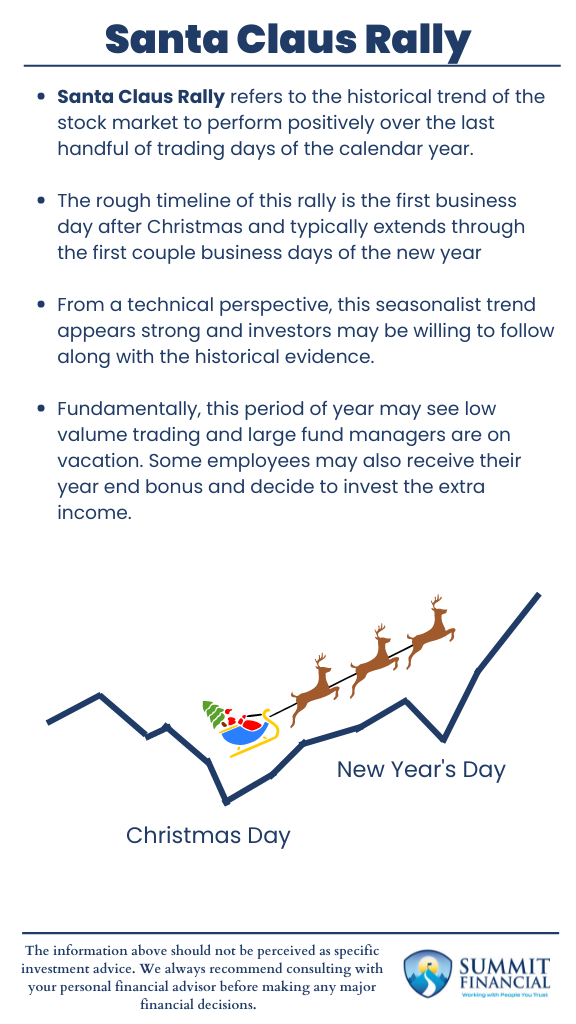 How Long Does the Santa Claus Rally Last?
The rough timeline of this rally is the first business day after Christmas and typically extends through the first couple of business days of the new year. However, the exact timeline can change from year to year. Over this period, Investopedia reports the S&P returns about 1.40% on average and has been positive 34 of the past 45 years. According to Reuters, the S&P has notched a positive return in December 74% of the time since 1928, more than in any other month. 
Is the Santa Claus Rally Real?
Technical analysts believe in the seasonality of market trends. This means they believe that there are certain times of the year when the market has historically performed well, and they decide to manage their investments around these various trends. However, there could be fundamental reasoning for this recurring trend too. First, the holiday season typically means a lack of work hours as many individuals take vacation time to spend with their families. This implies that investment managers may not be as active, limiting the amount of selling in the market.
Also, individuals may receive their year-end bonus over this time and decide to invest some or all of the bonus in the market. Lastly, some retirement plan contributions have a calendar year deadline, which could cause an influx of contributions during this final week.
More to Consider
We would like to specifically note that this blog is not specific investment advice, and you should not take action without first consulting your advisor. In addition, this blog is speaking to the Santa Claus Rally on a general basis and does not reflect our outlook for the remainder of 2022. While the historic odds favor a year-end rally, this is not guaranteed to happen, and the market can undoubtedly decline over this period.
Speak With a Trusted Advisor 
If you have any questions about how inflation may affect your investment portfolio, taxes, our 401(k)-recommendation service, or anything else, please call our office at (586) 226-2100.
Please feel free to forward this commentary to a friend, family member, or co-worker. If you have had any changes to your income, job, family, health insurance, risk tolerance, or overall financial situation, please call us so we can discuss it.
We hope you learned something today. If you have any feedback or suggestions, we would love to hear them.
If you found our article helpful, consider reading our other recent posts on Bull vs. Bear Market, Record Inflation, and Fiduciary vs. Financial Advisor.
Best Regards,
Zachary A. Bachner, CFP®
with contributions by Robert L. Wink, Kenneth R. Wink, and James D. Wink. 
Sources:
https://www.investopedia.com/terms/s/santaclauseffect.asp
https://en.wikipedia.org/wiki/Santa_Claus_rally#cite_note-hohoho-3
https://www.cmegroup.com/openmarkets/finance/2020/the-history-of-the-santa-claus-rally.html
https://www.reuters.com/markets/europe/history-says-expect-strong-december-us-stocks-despite-omicron-fed-worries-2021-12-01/.
https://www.investopedia.com/ask/answers/06/salarydeferral401(k).asp#citation-3
Book a Time to Chat: