The real estate market has been extremely strong for the past few years, but things have started to change.
The beginning of the COVID-19 pandemic created a large amount of built-up demand for homes as no one could move during the lockdown. The vast number of buyers continued to drive home prices higher for the next couple of years as people were looking to relocate. In addition, many individuals decided to retire during COVID, and the work-from-home phase has become permanent for a handful of industries. For a while, there was not enough sellers to meet the buyer demand, so prices continued to rise. Not to mention, homes were selling within a matter of weeks, so it was hard for buyers to lock down a property as others were offering higher prices, all-cash offers, or potentially willing to cover inspection, appraisal, or closing costs.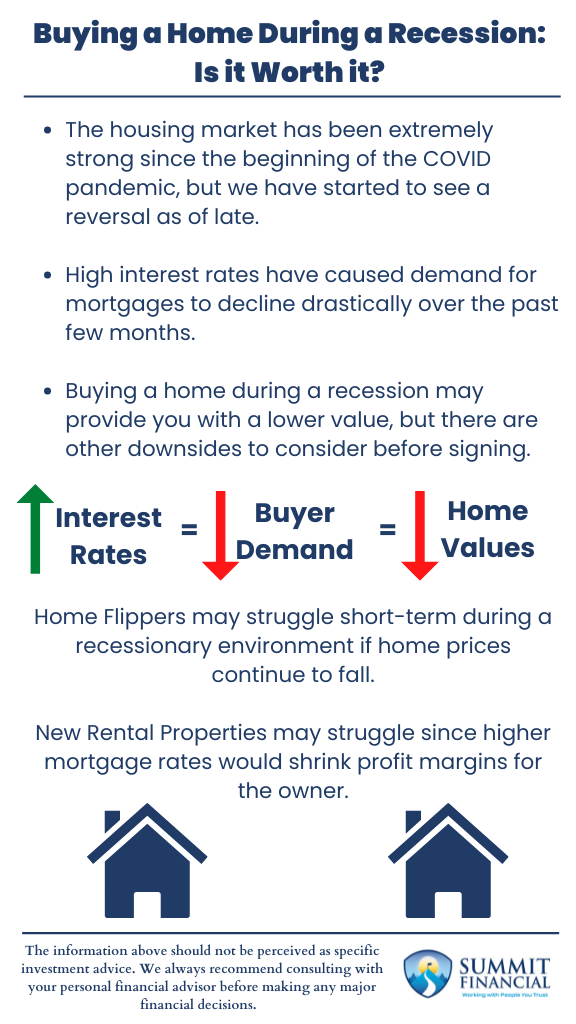 COVID-19 and the Housing Market
The COVID-19 pandemic also saw a drastic decline in interest rates, which helped spur demand. The average 30-year mortgage rate was 2.89% in August of 2021. These low rates made mortgages more affordable and allowed individuals buy more homes and still stay within their monthly budgets. The housing sector also saw many refinances as existing homeowners attempted to lower their monthly payments and lock in these historically low rates.
What Inflation and Mortgage Rates Mean for Housing
However, the entire housing market has changed since the beginning of 2022. The U.S. economy is on the verge of a recession. Many economists claim we will reach those levels by the end of this economic cycle, potentially by 2023 at the latest. The economic deterioration in the U.S. has had significant impacts on the housing industry that potential home buyers should be aware of.
First, we have seen a complete reversal in interest rates. The U.S. Federal Reserve is committed to combatting the recent trend in high inflation, and one of its main tools to accomplish this goal is to raise interest rates. Raising the Fed Funds Rate makes it more expensive for banks to receive loans from the federal government, which causes rate increases for the end consumer.
June saw the average 30-year mortgage rate increase to roughly 6% or more than double where the average was less than a year ago. This drastic rise in rates has caused mortgages to become much more expensive and has had a huge negative impact on the demand for housing.
Secondly, nobody wanted to get a new mortgage, so we also saw a decline in supply since existing homeowners did not want to leave their current residence. However, the decrease in demand has started to outpace the decrease in supply, so home prices have started to level out and potentially reverse. This trend of lower demand and lower prices could continue as the economy approaches recessionary levels. This is compounded by the fact that the average consumer is still struggling with high inflation costs, as well as the potential for mass layoffs if corporations really start to struggle with profitability.
How a Recession Affects Real Estate
So, does it make sense to buy a home during a recession? It might, depending on your personal situation, so we always recommend meeting with your financial advisor before making any big decisions. A recession very well may provide an opportunity for you to receive a home at a lower rate if there is less competition on the buy-side. More sellers than buyers tend to equate to lower home prices. However, the rise in interest rates would make it more expensive to buy a home right now, although you could always refinance in the future if interests were to head lower.
Challenges of Investment Homes During a Recession
We would like to caution our readers against buying investment properties for a quick turnaround during a recession. Many homeowners have seen an increase in their property value, so some may decide to venture into investment properties or potentially house-flipping. While this still may be profitable, it may not be a great idea during a recession.
The balance reports that home values can also be affected by others in the area, especially if there is an influx of foreclosures in the area. If people cannot pay their bills and their home is foreclosed, this could lower the average value in the neighborhood, including your investment property. Rental properties are not affected by this factor as much since the home value is not typically a concern if you will be holding it long-term for the rental income. However, the high-interest rate mortgages will undoubtedly cut into your profit margins making rental properties less attractive if rates remain high.
Buying a Home During a Recession – Key Considerations
The housing market has been extremely strong since the beginning of the COVID pandemic, but we have started to see a reversal as of late.
High-interest rates have caused mortgage demand to decline drastically over the past few months.
Buying a home during a recession may provide you with a lower value, but there are other downsides to consider before signing.
Speak With a Trusted Advisor 
If you have any questions about how inflation may affect your investment portfolio, retirement planning, taxes, our 401(k)-recommendation service, or anything else, please call our office at (586) 226-2100.
Please feel free to forward this commentary to a friend, family member, or co-worker. If you have had any changes to your income, job, family, health insurance, risk tolerance, or overall financial situation, please call us so we can discuss it.
We hope you learned something today. If you have any feedback or suggestions, we would love to hear them.
Best Regards,
Zachary A. Bachner, CFP®
with contributions by Robert L. Wink, Kenneth R. Wink, and James D. Wink
If you found this article helpful, consider reading:
Sources: