Every profession has designations that reward hard work and dedication. For example, personal accountants often pursue their Certified Public Accountant (CPA) designation. In our industry, one such designation is the CERTIFIED FINANCIAL PLANNER™ certification. The CFP® mark demonstrates a profound knowledge in aspects of financial planning, including investments, insurance, taxes, estate documents, etc. But most importantly, it means the individual can use this knowledge to create comprehensive and well-rounded financial plans.
How I Discovered My Passion for Financial Planning
I was a freshman at Central Michigan University, studying statistics and actuarial science, when I decided to pivot and pursue a more applied mathematics direction.
CMU is a business-focused school, so finance was a top recommended major. As I learned more, I became drawn to the personal finance subsector. CMU offered a personal financial planning (PFP) degree, which was rare in Michigan at the time. Best of all, it only required five additional courses to complete, which I could do while still graduating in four years.
CFP® Certification: Increased Confidence, Credibility, and Ethical Standards
The head of the personal finance department was a longstanding financial advisor who was very specific about how he crafted the program. He ensured that the PFP degree would qualify the students to sit for the CFP® exam upon graduation.
The PFP degree from CMU covered the education requirement for the exam, so alums did not need to take any additional coursework to meet that prerequisite. The department head went out of his way to make sure everyone in the program was aware of this benefit. He also organized summer crash courses to study for the exam as well. Upon graduation and entering the workforce, I made sure I found a firm that would support me in accomplishing this goal.
Gaining Confidence and Credibility
Now that I have spent a decent amount of time in the industry and am looking back, there are a handful of benefits that come with having the CFP® certification. I knew some of these were a potential, others were unknown, but hindsight has made me appreciate all of them. 
First and foremost, being new to the industry, the designation gave me a sense of confidence in my work. I knew all the conceptual material in the exam, and the designation allowed me to believe that I could put it to good use. This sense of confidence was also felt among our clients too. I was not simply a recent college graduate obtaining clients and completing financial plans. I was a CERTIFIED FINANCIAL PLANNER™ professional that could handle an array of complex cases. 
Upholding High Ethical Standards
Furthermore, I believe my CFP® certification emphasizes the positive ethical considerations that are embedded in our financial plans. Our firm acts as fiduciaries with our clients due to regulatory requirements, but my CFP® certification also holds me to a high standard of care. The ethics requirement for the designation is very strict, so it also allows me to easily communicate to others my focus on our client-first mentality.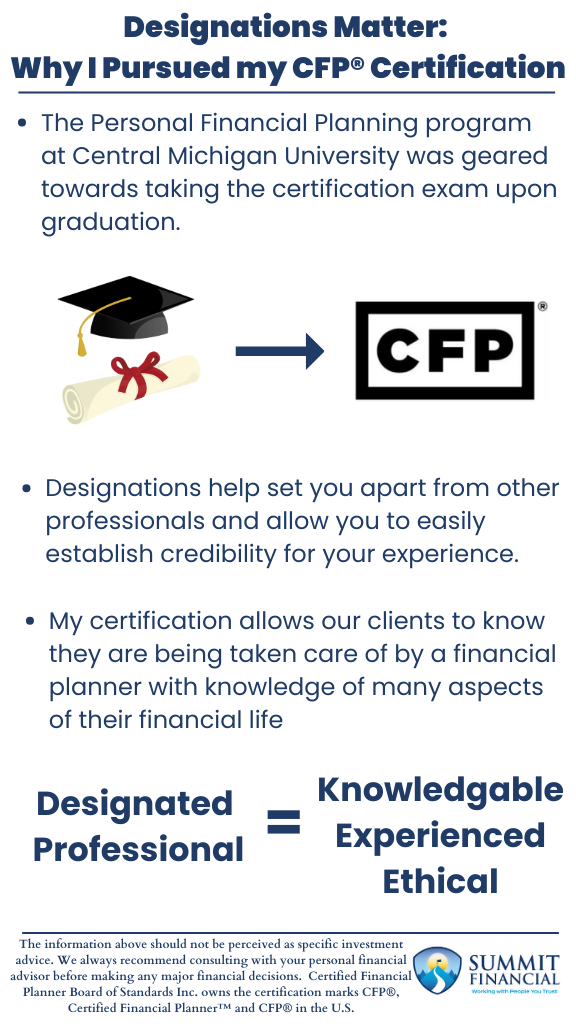 CFP® Certification: Standing Apart from Other Advisors and Helping Clients Achieve Their Goals
Finally, the CFP® certification sets me apart from other advisors. I have met many other financial advisors who have steered away from the CFP® certification due to the rigidity of the coursework, the difficulty level of the test, and the strict ethics requirements. They simply chose not to endure those difficulties.
However, surviving those trials has potentially allowed me to shine brighter than others. I strongly believe everyone should have a comprehensive financial plan in place, and, of course, I suggest finding a CFP® professional to help you through that journey. 
CFP® Certification – Highlights

The Personal Financial Planning program at Central Michigan University was geared towards taking the certification exam upon graduation.

Designations help set you apart from other professionals and allow you to easily establish credibility for your experience. 

My certification allows our clients to know they are being taken care of by a financial planner with knowledge of many aspects of their financial life.
Speak With a Trusted Advisor
If you have any questions about strategic travel budgeting, our investment portfolio, taxes, retirement planning, our 401(k)-recommendation service, or anything else in general, please call our office at (586) 226-2100. Please feel free to forward this commentary to a friend, family member, or co-worker. If you have had any changes to your income, job, family, health insurance, risk tolerance, or overall financial situation, please give us a call so we can discuss it.
We hope you learned something today. If you have any feedback or suggestions, we would love to hear them. 
Best Regards,
Zachary A. Bachner, CFP®
with contributions by Robert L. Wink, Kenneth R. Wink, and James D. Wink. 
Sources:
If you found this article helpful, consider reading:
Investment Advisory services offered through Summit Financial Consulting LLC, an SEC Registered Investment Advisor Firm.  SEC
Registration does not imply a certain level of skill or training.  Summit Financial Consulting, LLC and its representatives do not render tax, legal, or accounting advice. Insurance products and services are offered through Summit Financial Consulting, LLC.
Certified Financial Planner Board of Standards Inc. owns the certification marks CFP®, Certified Financial Planner™ and CFP® in the U.S.