Life insurance is a financial solution used to protect against unexpected loss of life. Life is extremely valuable, both emotionally and financially. There are a lot of concerns that can arise when someone unexpectedly passes away, but a life insurance policy can alleviate some of those issues. You can purchase a policy with a death benefit payout if the insured passes away by paying a lump sum or ongoing payments. You can insure yourself, your partner, your children, or anyone who is financially dependent on you.
Life insurance can be confusing, but you don't have to understand it all to get started. In this article, we will cover things to consider about different policy types and what to know before purchasing life insurance.
How Life Insurance Works
Life insurance is purchased for many reasons, but financial reasons are the most common. While the death benefit may ease the emotional distress of death, that is not the main reason to purchase a policy.
Many families will buy a policy to cover their outstanding debt, including their mortgage balance. Paying off financial debt with the policy benefits allows the beneficiaries to alleviate the burden of ongoing payments. In addition, life insurance is commonly used to replace lost income, especially if the household is dependent on one source of income.
Say, for example, if the breadwinner passes away, the death benefit can be used to fulfill income needs, so the surviving spouse does not always need to return to work. If income needs are not an issue, the death benefit can be used towards retirement planning, college education planning, or future financial investments. A household with only one income may find it difficult to accumulate savings, which is why the death benefit can be a valuable asset.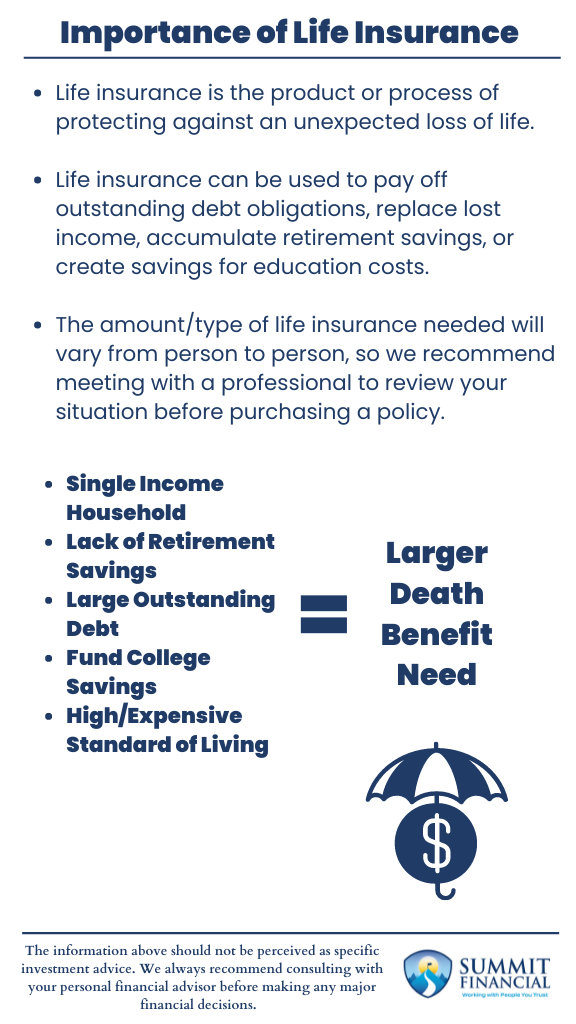 When to Purchase Whole Life Insurance
There are plenty of different policy structures that may be considered when purchasing life insurance coverage.
It may be helpful to understand the differences between a term policy and a whole-life policy when considering your options. Term life insurance is a temporary policy that locks in the premiums for the life of the policy. However, these policies last only 30 years. On the other hand, whole-life policies are permanent insurance policies meant to last the insured's entire lifetime.
Sometimes these rates are locked in, but sometimes there are variable premium features that cause the payments to fluctuate. In addition, these permanent policies typically include a cash value feature which may generate savings within the policy. This cash value can be used in various ways and is typically dependent on the financial situation of the policy owner.
What is a Final Expense Life Insurance Policy?
Lastly, final expense policies are usually smaller, fully funded policies that are meant to cover immediate expenses following a death. In these final expense policies, benefits are typically paid out quicker than they would with a traditional policy because they rarely require a death certificate, which a municipality may take weeks to create. Therefore, beneficiaries can use the funds for funeral or burial expenses.
Life Insurance- Summarized
There are many different types of life insurance available to suit all needs and preferences. Life Insurance is important because it helps offset the financial burden when a family member is lost. The major decision of whether to choose temporary or permanent life insurance depends on the needs of the person who will be insured.
Life insurance is the product or process of protecting against an unexpected loss of life.
Life insurance can be used to pay off outstanding debt obligations, replace lost income, accumulate retirement savings, or create savings for education costs.
The amount/type of life insurance needed will vary from person to person, so we recommend meeting with a professional to review your situation before purchasing a policy.
How Summit Financial Can Help
We suggest consulting with a licensed professional before purchasing life insurance. Our team is happy to meet with you and review your options.
If you have any questions about taxes, your individual investment portfolio, our 401(k)-recommendation service, or anything else in general, please give our office a call at (586) 226-2100. Please feel free to forward this commentary to a friend, family member, or co-worker.
If you have had any changes to your income, job, family, health insurance, risk tolerance, or overall financial situation, please give us a call to discuss it. We hope you learned something today. We would love to hear any feedback or suggestions if you have any feedback or suggestions.
If you found our article helpful, consider reading our other recent posts on Teaching Kids About Money, Budgeting, and Calculating Net Worth.
Best Regards,
Zachary A. Bachner, CFP®
with contributions by Robert L. Wink, Kenneth R. Wink, James D. Wink, and James C. Baldwin
Set Up a Time to Chat: