My wife and I always had a trip to Italy at the very top of our bucket list. We finally made our dream of exploring Italy a reality this past summer. The trip lived up to every expectation; we learned a lot about the country and ourselves along the way. However, we planned and booked the entire trip ourselves, and executing this trip did present some challenges. Identifying an appropriate budget was extremely important, and I'd like to outline some strategic travel budgeting tips to help others fund their dream vacations.
Starting with Budgeting Basics
Before diving into travel-specific budgeting tips, I recommend reviewing a few of our articles covering budgeting fundamentals. These will provide a solid baseline of key principles like preparing a monthly or event-specific budget. We have Basics of Budgeting and Budgeting 101, which are great resources for anyone looking to strengthen their budgeting skills.
Two Approaches to Travel Budgeting
There are two approaches to budgeting for a vacation.
First, if you have a set amount of money dedicated towards a trip, then this amount will determine the type of vacation you can take. For example, if you only have $1,000 to work with, a luxury all-inclusive resort may be out of the question. Instead, look for destinations and options that fit within your $1,000 budget.
The second approach is deciding on your dream trip first and then determining the required budget. In our case, we had our hearts set on Italy. After researching costs, we concluded we'd need about $10,000 to make it happen. That meant saving up to reach that goal before we could embark on our Italian adventure, which is why it took us so long to finally take the trip.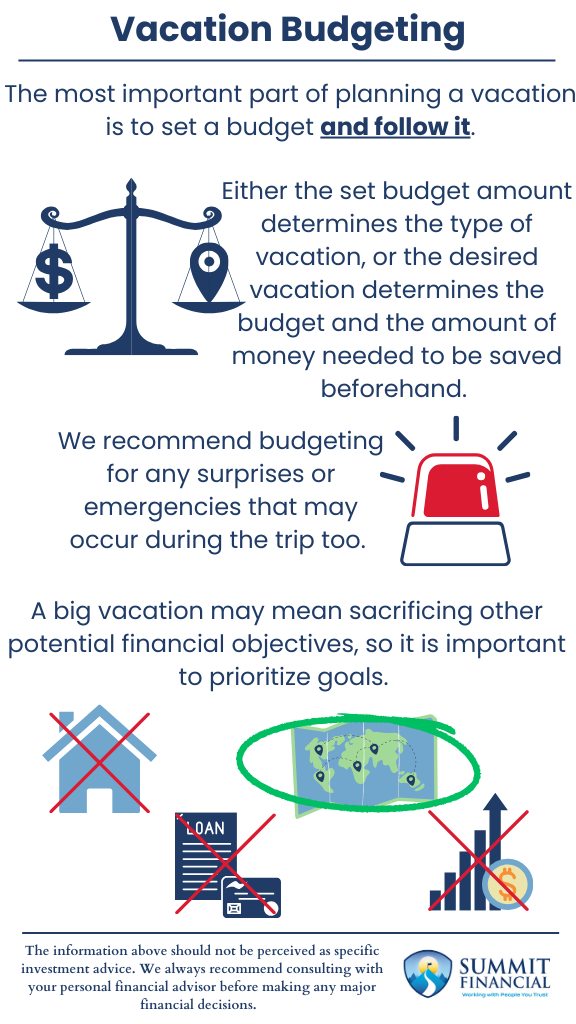 Sticking to Your Budget During Travel
Creating a travel budget upfront is crucial, but sticking to it during your vacation is equally important.
It's tempting to overspend when exploring a dream destination, especially if it's a once-in-a-lifetime trip. There are endless opportunities to spend on food, activities, shopping, and more. However, expenses should be monitored or tracked during the vacation to ensure you remain within your set budget parameters.
Importance of a Travel Emergency Fund
We strongly recommend budgeting a financial buffer beyond your main vacation expenses. Just like an emergency fund for daily life, a travel emergency fund prepares you for surprises.
Unexpected things can happen while traveling – an injury, missed flight, lost luggage, and more. We learned this firsthand when I got a bad case of food poisoning at the airport on our way home from Italy, and it caused us to miss our flight. We had to quickly book a hotel room for the night along with a new flight for the next day.
Thankfully, we had set aside some emergency funds for this type of situation so that we could afford the additional costs. If everything goes smoothly and this buffer is not needed, you can simply allocate the funds to another financial goal once you return home.
Balancing Travel with Other Financial Goals
Speaking of financial goals, we want to address the concern of prioritization.
Consider the trade-offs versus other financial goals when budgeting for a big trip. Our Italy travels were costly. We could have invested the money, paid off debt, or made home improvements instead. We decided the vacation was our top priority at the time over those other options. But it's important to evaluate the opportunity cost of travel spending.
We have seen cases before where some individuals do not have any retirement savings, let alone an adequate emergency fund set aside, and they continue to take expensive vacations. Travel can be a top priority for a lot of people, but they may be better off with more balance between spending and saving. It is important to know the opportunity cost of vacations and to accept that fact before traveling.
Strategic Travel Budgeting – Highlights

The most important part of planning a vacation is to set a budget and follow it.
Either the set budget amount determines the type of vacation, or the desired vacation determines the budget and the amount of money needed to be saved beforehand.
We recommend budgeting for any surprises or emergencies that may occur during the trip, too.
A big vacation may mean sacrificing other potential financial objectives, so it is important to prioritize goals.
Speak With a Trusted Advisor
If you have any questions about strategic travel budgeting, our investment portfolio, taxes, retirement planning, our 401(k)-recommendation service, or anything else in general, please call our office at (586) 226-2100. Please feel free to forward this commentary to a friend, family member, or co-worker. If you have had any changes to your income, job, family, health insurance, risk tolerance, or overall financial situation, please give us a call so we can discuss it.
We hope you learned something today. If you have any feedback or suggestions, we would love to hear them.
Best Regards,
Zachary A. Bachner, CFP®
with contributions by Robert L. Wink, Kenneth R. Wink, and James D. Wink. 
If you found this article helpful, consider reading: