Ever since the COVID-19 pandemic, millions of borrowers have had their student loan payments deferred. The loans have been frozen to the extent that no payments were due, no late fees have been applied, and no interest has been accrued over the past few years. The pandemic is now in the rearview mirror, so the need for financial assistance is not as great currently. After countless extensions to the deferment to bolster the economy, the final deadline is approaching. 
Biden's Push for Loan Forgiveness
However, over the past year or so, the Biden Administration has been pushing toward a broad forgiveness program for millions of Americans. This was one of the President's main selling points during his election campaign, and he would have pursued executive orders if needed to get the forgiveness finalized. For a deeper dive into this debt relief plan, visit our previous blog post. The plan was to forgive $10,000 per person with an extra $10,000 for those who attended college on a Pell Grant. The plan would have erased $400 billion worth of loans and helped roughly 43 million Americans. 
Opposition and Supreme Court Ruling
However, some members of the Republican party did not approve of the forgiveness plan and issued a lawsuit to block the motion. The basis for their lawsuit was that the loss of interest or income from the loans would negatively impact their states' well-being. The fact that the bottom line for the states was claimed to be negatively impacted by the forgiveness meant that the lawsuit was allowed to proceed and ultimately ended up being decided by the Supreme Court.
The defense in support of the forgiveness was that the President could enact different types of support during national emergencies. The Supreme Court ruled that this action was unconstitutional and needed the support of Congress to be approved, which it did not receive. This means that millions of borrowers should be prepared to resume their student loan payments.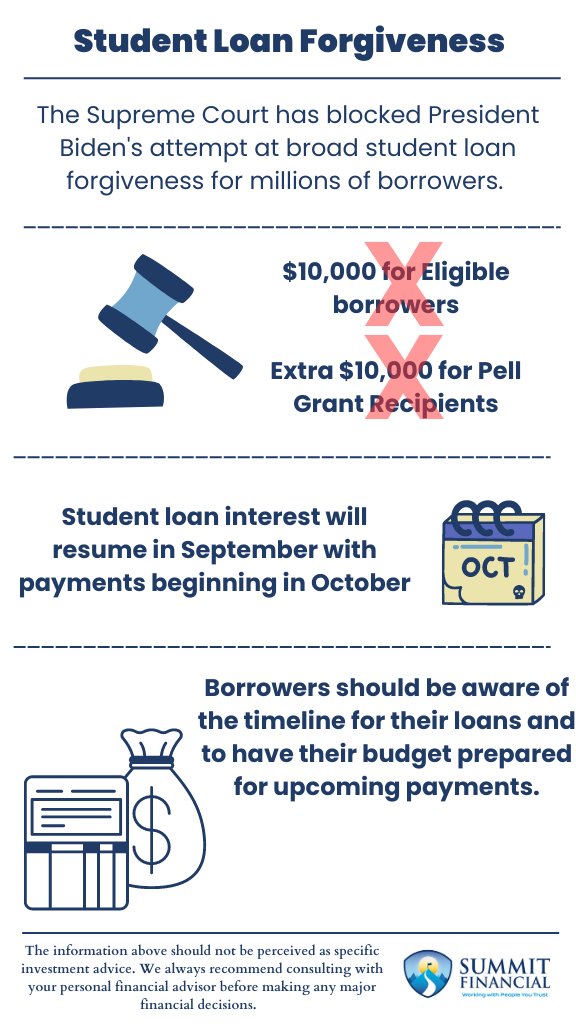 What Borrowers Should Do Next
We strongly recommend all borrowers check with their loan servicers to ensure when the president and payments will resume. The first payment should be due in October, but the specific due date may vary based on the billing cycle of the servicer. Interest should start to accrue on September 1st, which means any borrowers waiting to make a lump sum payment should do so before then.
 We are aware that many borrowers have been setting aside savings instead of paying their loans during this period since the forgiveness plan was uncertain. While the broad national forgiveness was blocked, there may be other ways borrowers can receive assistance. We recommend browsing other types of loan forgives or even various repayment plans that are offered.
Budgeting in the Wake of Loan Resumption
Most importantly, every borrower should take time to review their budget to ensure they are prepared for the upcoming payments. The recent inflation surge, detailed further here, has strained many consumer budgets nationwide.
Inflation has cooled a bit over the recent months, but that does not necessarily mean there is a sizable cushion in the budgets of Americans. Our concern is that consumer spending will be greatly reduced to free up the cash flow needed for the loan payments. This may be a necessity for many borrowers to meet all of their monthly obligations. Student Loan deferral is one of the few remaining supports from the COVID-19 pandemic, so it will be important to see how the underlying economy fairs once payments resume. 
Highlights

The Supreme Court of the United States recently blocked President Biden's attempt to implement broad student loan forgiveness. 

The deferment in loans will be ending in September of 2023, when interest will begin to accrue, with payments set to resume in October. 

It is important for borrowers to be aware of the timeline for their loans and to have their budgets prepared for upcoming payments.
Speak With a Trusted Advisor
If you have any questions about the student loan forgiveness, our investment portfolio, taxes, retirement planning, our 401(k)-recommendation service, or anything else in general, please call our office at (586) 226-2100. Please feel free to forward this commentary to a friend, family member, or co-worker. If you have had any changes to your income, job, family, health insurance, risk tolerance, or your overall financial situation, please give us a call so we can discuss it.
We hope you learned something today. If you have any feedback or suggestions, we would love to hear them.
Best Regards,
Zachary A. Bachner, CFP®
with contributions by Robert L. Wink, Kenneth R. Wink, and James D. Wink
If you found this article helpful, consider reading:
Sources: